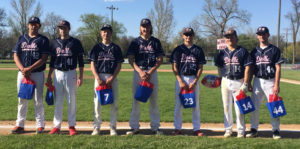 On a beautiful evening for baseball, the Dell Rapids High School baseball team defeated Central Dakota 10-1 on Friday, May 5th, at Rickeman Field in Dell Rapids. Dells Baseball recognized the seven seniors on this year's team: Ethan Brobjorg, Adrian Juba, Austin Ellingson, Trevor Pulscher, Josh Roemen, Nate McKee, and Seth Anderson.
Dell Rapids scored five times in the bottom of the first inning for a quick 5-0 lead. Roemen started the offense with a lead-off triple. Carter Gullickson drove him home with a sacrifice fly. Matt Gillogly scored on an RBI double by McKee. Ellingson hit a two-run single later in the inning. Anderson scored on a wild pitch, and Elijah Story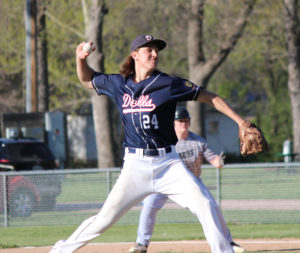 had an RBI single. Dell Rapids scored two more runs in the bottom of the fourth. McKee had an RBI single, and Roemen scored on an error to push the lead to 7-0. Central Dakota scored their lone run on an error in the top of the fifth inning. Dells scored two more runs in the bottom of the fifth on an RBI single by Brobjorg and Roemen. The final run was scored in the bottom of the sixth inning on a steal of home by Anderson.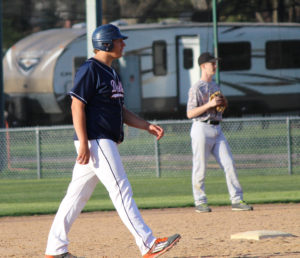 Mckee had three hits in the game, including a double, and drove in two runs. Roemen had two hits, one of them a triple, and an RBI. Brobjorg and Ellingson both had two hits and an RBI. Story had a hit and an RBI. Gillogly and Logan Ruesink also tallied hits in the game. Pulscher pitched the first two innings giving up no hits while walking three and striking out four batters. Gillogly pitched one inning of no-hit baseball while walking three and striking out two. Juba pitched the final four innings giving up one unearned run on one hit while walking one and striking out seven.
Dell Rapids improves to 11-4 on the year. Dell Rapids also earned a win against Wolsey/Wessington on Thursday, May 4th, on a forfeit. Dells now has a six-game winning streak. Dell Rapids will wrap up their regular season game with three varsity games on Sunday, May 7th, at Rickeman Field. They will play two games against Aberdeen starting at 12:00 p.m. They will end the day with a game against Baltic that is scheduled to start at 5:00 p.m.
| | | | | | | | | | | | |
| --- | --- | --- | --- | --- | --- | --- | --- | --- | --- | --- | --- |
| | 1 | 2 | 3 | 4 | 5 | 6 | 7 | | R | H | E |
| Central Dakota | 0 | 0 | 0 | 0 | 1 | 0 | 0 | | 1 | 1 | 2 |
| Dell Rapids | 5 | 0 | 0 | 2 | 2 | 1 | x | | 10 | 12 | 3 |