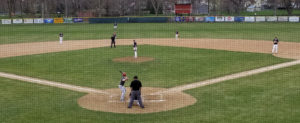 Deubrook/Castlewood/Hamlin handed Dell Rapids baseball their first loss in over a year on Thursday, May 3rd at Rickeman Field in Dell Rapids. D/C/H scored the first 10 runs of the game and won 10-1 over Dell Rapids.
D/C/H gained momentum in the second inning with a big two-out rally. After scoring the first run of the game on a line-drive single, D/C/H had a runner on first with two outs. Dell Rapids starting pitcher Logan Stone had a 2-2 count in his favor before issuing a walk. D/C/H then belted four straight singles while scoring four more runs to take a 5-0 lead. Dell Rapids put two runners on base in the bottom of the second, but failed to score.
Dell Rapids able to load the bases with two outs in the bottom of the third inning, but again they were unable to get a run. D/C/H scored another run in the top of the fourth inning to extend their lead to 6-0. Four more runs came in to score in the top of the sixth inning to push the lead to 10-0. Dell Rapids scored their lone run in the bottom of the sixth when Keegan Miller scored on a wild pitch.
Dell Rapids was held to just five hits offensively. Carter Gullickson, Jeffrey Schuch, Miller, Eddie Price, and JD Holm all had hits in the game. Dell Rapids hitters struck out a total of nine times.
Stone started the game pitching three innings giving up six runs, five earned on eight hits while walking one and striking out three. Elijah Story pitched two innings giving up no runs on two hits while walking one and striking out two. Price pitched an inning giving up four runs, two earned, on three this with two walks and three strikeouts. Matt Gillogly pitched the final inning giving up one walk and striking out three batters.
Dell Rapids (8-1) will host Madison in a double header on Sunday, May 6th.