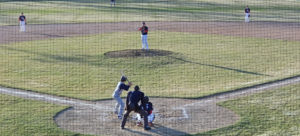 Dell Rapids picked up another win in the 2018 season with an 11-1 win over Sioux Valley at Rickeman Field in Dell Rapids on Friday, April 27th. It is the sixth straight win for Dell Rapids this season, 20th straight win going back into the 2017 season, and 22nd straight win over a Class B opponent.
Sioux Valley held an early 1-0 lead after they were done batting in the top of the second inning. A one-out, bases-loaded walk scored the early run, but that would be it for Sioux Valley.
Dell Rapids tied the game in the bottom of the second on an RBI groundout by Jeffrey Schuch. Elijah Story drove home the go-ahead run in the third inning on a sacrifice fly to left field. Jay Holm followed with an RBI double to give Dell Rapids a 3-1 lead. Two more runs came across in the fourth on an RBI triple by Eddie Price and an RBI single by Tate Kolbeck. The lead grew to 7-1 in the bottom of the fifth after RBI hits by Jake Steineke and Schuch. Dell Rapids ended the game on the 10-run rule after scoring four times in the bottom of the sixth. Keegan Miller drove in two runs on a single. Steineke hit an RBI single to right center. Miller scored on a wild pitch to end the game.
Steineke had three hits in the game with two RBIs. Holm finished with two hits and an RBI. Schuch, Miller, Price, Story, and Kolbeck all had hits. Schuch and Miller had two RBIs each. Price, Story, and Kolbeck also had RBIs.
Tyler Wood started the game on the mound. Wood threw two innings giving up an earned run on three hits and two walks while striking out three batters. Steineke pitched the final four innings allowing no runs on two hits while striking out four batters.
Dell Rapids (6-0) will host Flandreau in a varsity-only double header on Sunday, April 29th. First game will start at 4:00 p.m. at Rickeman Field.