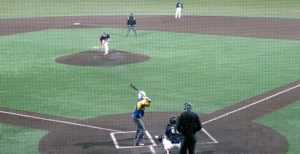 Dell Rapids earned another victory in the 2018 season. Dell Rapids defeated Baltic 6-3 on Tuesday, April 24th at Ronken Field in Sioux Falls. The win moves Dell Rapids to 5-0 on the season.
Dell Rapids pushed across two runs right away in the top of the first inning. Carter Gullickson led the game off with a double to left field off of Baltic starter Zach Hefty. Jay Holm followed with an infield single putting runners on first and second with no outs. Jake Steineke drove home Gullickson with an RBI ground out. Holm scored on an RBI single by Keegan Miller later in the inning.
Baltic cut the lead in half in the bottom of the second inning when Jonathan Wilhelmsen drew a walk with the bases loaded. Dell Rapids scored two more times in the top of the third. Gullickson walked, Holm singled, and Steineke walked to load the bases with no outs. Hefty retired the next two batters, but Elijah Story drove in two runs with a hard ground ball to left to give Dell Rapids a 4-1 lead. Hefty drew a walk to start the Baltic half of the third inning. Courtesy runner Easton Nordbye scored on a double by Cobain Goehring. Dell Rapids led 4-2 after three innings of play.
Tate Kolbeck reached on an error in the fourth inning. He would advanced to second on a passed ball, then steal third base, finally scoring on a throwing error to give Dell Rapids a 5-2 lead. Baltic loaded the bases with no outs in the bottom of the fourth. Story took over pitching at that point and got the next two batters to pop out on infield flies. Baltic was able to get one run across on a passed ball before the inning ended to cut the lead to 5-3. Dell Rapids added an insurance run in the seventh inning when Steineke scored on a throwing error.
Steineke started the game on the mound for Dell Rapids throwing only one and two-thirds of an inning giving up an earned run on no hits, five walks, and two strikeouts. Matt Gillogly pitched the next inning and a third giving up two runs, one earned, on one hit with four walks and two strikes. Story pitched the final four innings giving up just one hit and one walk while striking out four. Hefty pitched four innings giving up five runs, four earned, on five hits while walking three and striking out three. Wilhelmsen pitched the final three innings giving up an unearned run on one hit with four walks and six strikeouts.
Holm led Dell Rapids offensively with two hits and two runs scored. Gullickson, Miller, Gillogly, and Story all collected hits. Story had two RBIs. Steineke and Miller each had one. Brock Aaker and Goehring had the two hits for Baltic. Goehring and Wilhelmsen each had an RBI.
Dell Rapids (5-0) will host Sioux Valley on Friday, April 27th. at Rickeman Field starting around 7:30 p.m. Dell Rapids will then play a double-header against Flandreau at Rickeman Field on Sunday, April 29th.