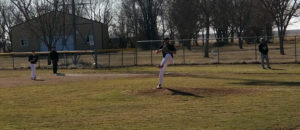 After a 170-mile one-way trip to Northville, SD to play two baseball games, Dell Rapids made sure to make the most of the trip by throwing two no-hitters on Sunday, April 22nd. Dell Rapids earned an 11-0 win over Howard and a 10-0 victory over Sioux Valley.
In the first game of the day, two Dell Rapids pitchers combined to throw a no-hitter in an 11-0 win over Howard. Matt Gillogly pitched the first three and one-third innings striking out five batters while only allowing two base runners. Logan Stone pitched the final inning and two-thirds striking out four batters while only allowing one base runner.
The offense scored four times in the second inning by taking advantage of six walks and an error. Gillogly scored on a wild pitch, Keegan Miller scored on an error, Elijah Story scored on a bases-loaded walk to Tate Kolbeck, and Jeffrey Schuch scored on a sacrifice fly by Carter Gullickson. Dell Rapids added another run in the third inning when Story scored on a wild pitch. Dell Rapids added six more runs in the bottom of the fourth inning and then held Howard scoreless in the top of the fifth to end the game on the 10-run rule.
Kolbeck finished 2-3 in the game with an RBI. Gullickson, Gillogly, Story, and Jay Holm all had hits. Story and Gullickson both had two RBIs in the game. Miller and Eddie Price also had an RBI.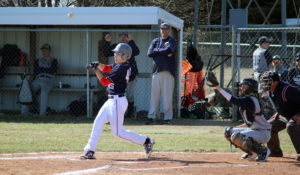 In the second game of the day, starting pitcher Eddie Price dominated Sioux Valley. Price threw a seven-inning complete game no-hitter. He struck out 19 batters in the game and nearly pitched a perfect game. His only base runner allowed was a lead-off walk in the top of the third inning. The only other two outs recorded besides strikeouts was a groundout back to Price to start the game and a pop fly to second base in the fourth inning.
The offense backed up the strong pitching performance by scoring four runs in the top of the fourth inning, four more runs in the top of the fifth inning, and the final two runs in the top of the seventh inning. Gullickson, Schuch, Miller, Gillogly, Story, Holm, and Tyson Dahler all had hits in the game. Miller led the team with three RBIs in the game. Dahler collected two RBIs. Schuch, Gillogly, and Story each had an RBI.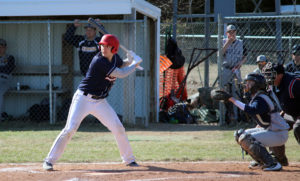 Dell Rapids (4-0) will play Baltic on Tuesday, April 24th at Ronken Field on the campus of Augustana University in Sioux Falls. The varsity game will start at 7:00 p.m. with a few JV innings to follow.