In the final home games of the season for the Dell Rapids baseball team, Dell Rapids split with Madison in a double-header at Rickeman Field on Sunday, May 6th. Dell Rapids took the first game 4-1, but lost the second game 6-4. Between the two games, Dell Rapids honored the seniors on the team.
Dell Rapids jumped out in front early on Madison in the first inning of the first game. Jeffrey Schuch hit an RBI single, and Elijah Story drew a bases-loaded walk to give Dell Rapids a 2-0 lead. Dell Rapids added another run in the second inning when Tate Kolbeck scored on a wild pitch. Madison scored their lone run on a passed ball in the top of the fourth inning. Tyson Dahler hit a deep fly-ball double to center field scoring Schuch for the final Dell Rapids run of the game.
Eddie Price finished with two hits. Carter Gullickson, JD Holm, Dahler, Schuch, and Story all had hits. Dahler, Story, and Schuch had the RBIs for Dell Rapids. Priced earned the win pitching five innings giving up one unearned run on no hits while walking five and striking out 10 batters. Jake Steineke pitched the final two innings giving up three hits and two walks.
Between the two games, Dell Rapids honored their seven seniors. The seniors this year are Nick Palmer, Tyson Dahler, Matt Gillogly, Carter Gullickson, Elijah Story, Lealand Randel, and Jeffrey Schuch.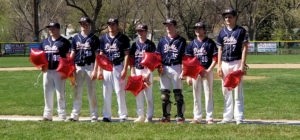 Madison struck first in the second game of the day. Madison scored four times in the bottom of the first inning on two line drive singles, a passed ball, and a wild pitch. Madison scored again in the second inning on a wild pitch to increase their lead to 5-0. Dell Rapids got on the board in the top of the third when Gullickson scored on a wild pitch. Dell Rapids cut into the lead more in the top of the fourth inning. Story scored on an RBI triple by Keegan Miller. Dahler had an RBI ground out to drive home Miller to cut the lead to 5-3. Madison added another run in the bottom of the fourth on an RBI double. Dell Rapids again cut the lead to two runs after an RBI single by Story in the top of the fifth, but that was as close as Dell Rapid would get.
Story had three hits in the second game. Gullickson, Schuch, Miller, Gillogly, and Price all had hits as well. Story, Miller and Dahler had the RBIs in the game. Gillogly pitched the first two innings giving up five runs, four earned, on four hits while walking two and striking out two. Logan Stone pitched three innings giving up just one earned run on two hits with one walk and three strikeouts. Story pitched one inning and just allowed one walk.
Dell Rapids (9-2) will now move into the divisional playoffs next week.